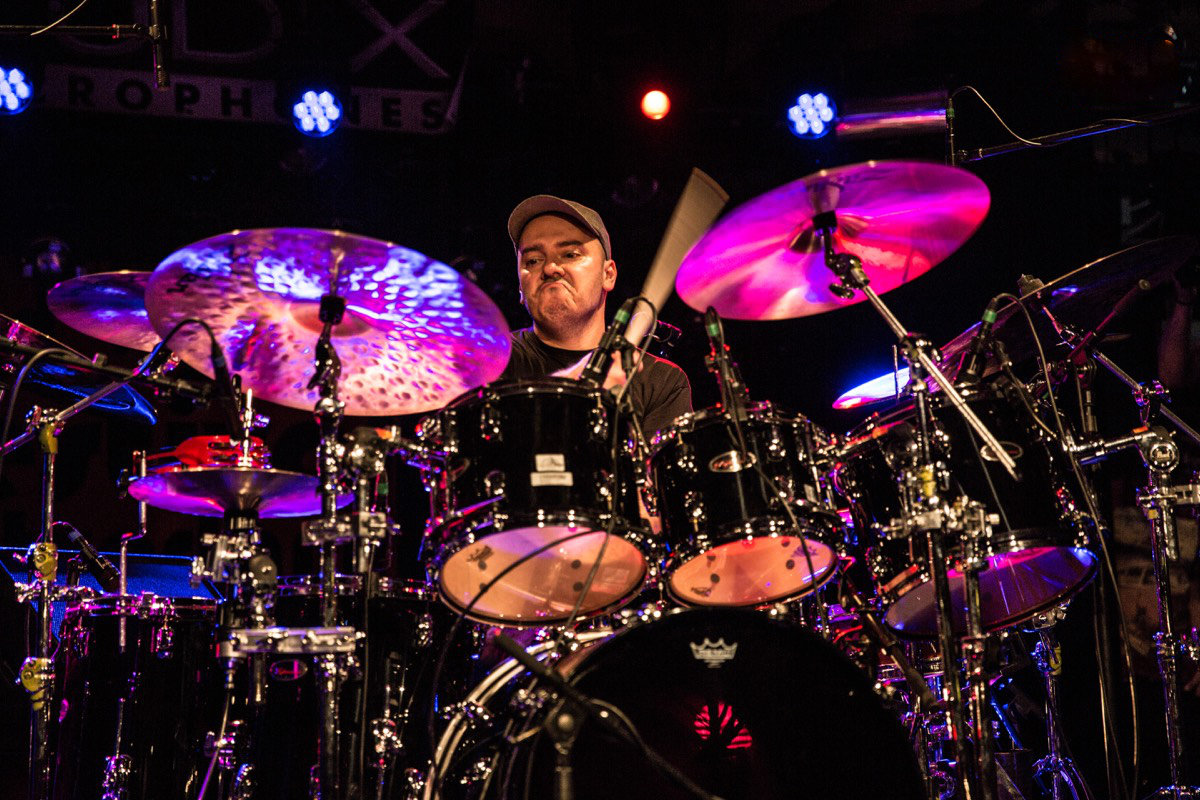 GabsDrumeoPromoPic2s.jpeg
Stanley Jordan & tHUNder Duo s
Stanley Jordan & tHUNder Duop on Stage s
21/02/2021
Gabs' performance in Portugal, new You-Tube video from Dia Do Ritmo Drum Festival in Aveiro,Portugal.
14/02/2021
Delighted to announce that I'll be the Headliner Artist at this year's 6th Annual ATHENS Drum Show in magical Greece.
18/01/2022
ENJOY the latest promo video from Gabs' home studio #gabbeyroad2 Studio, London featuring his signature Gabor Dornyei Drum Pack on Tycoon Percussion.
24/02/2021
STANLEY JORDAN QUARTET Live in Europe, Feat: Stanley Jordan- Guitar, Christian Galvez- Bass, Kornel Horvath-Percussion, Gabor Dornyei-Drums
18/12/2019
ENJOY Gabs' new video on KILLER SAMBA INDEPENDENCE – named by the all fresh Rhythm Magazine.
14/12/2019
Gabs' latest video edit from the prestigious London Drum Show Main Stage Solo Performance at the Kensington Olympia Conference Centre.
04/07/2019
Gabs will embark on a promotional/educational masterclass tour for #icmplondon over 5 cities in China as well as going to be the head of the jury at the Chinese Young Drummer competition.
07/10/2018
"Gab's 30 Years Drumming" Tour poster announced. See You on the road!! #feelingblessed
01/10/2018
Gab's Solo Performance/Clinic as part of the China Music Fair in Shanghai, China organised by ASPIRAR on the 11.October.2018!
06/06/2018
Gab's latest feature in the Worlds #1 American MODERNDRUMMER Magazine titled "Delivering Under Pressure" is available by clicking the MD link. In this write up Gabs talks about his experiences on the global live streaming from DrumChannel in Los Angeles, California, USA. ENJOY and SHARE!
25/01/2018
Gabor Dornyei LIVE Global Streaming on DRUMCHANNEL from Los Angeles, California on the 30th January 2018 from 8pm PST. COMMENT on the above DC Facebook link for a chance to WIN a Brand New 2018 Model K ZILDJIAN 16″ Sweet Crash Cymbal, 2x REMO Pro-Packs & 5 Pairs of VIC FIRTH Gabor Dornyei Signature Drum Sticks by simply (positively;) commenting on the video with the most useful part of the lesson!
SPREAD THE WORD!
16/11/2017
Gabor Dornyei appointed as Head Of Drum Department at JUL ACADEMY in Cosenza, in the gorgeous south of Italy!
11/11/2017
Gabs's latest clip from THUNDER DUO China Tour in the summer of 2017, featuring Kornel Horvath on percussion.
19/10/2017
GaborDornyei & Kornel Horvath tHUNDER DUO USA/CANADA Clinic Tour announced!
Gabor and Kornel will be embarking on a USA/CANADA clinic Tour next week, starting at the prestigious Drummer's Collective Institute (DCI) in New York City! We hope to see You on any of our tour dates -see the poster above- and make sure to check out tHUNder Duo's upcoming DRUMEO Film!
02/08/2017
WELCOME to the All New GaborDornyei.com Website!
ENJOY the site, spread the word and please make sure to SIGN UP to our newsletter to participate in a draw to WIN a pair of Vic Firth Gabor Dornyei Signature #Gabsticks!
Sincerely: Gabs
4-9/08/2017
Gabor Dornyei & Kornel Horvath's tHUNder Duo in Guangzhou, China presented by
Tycoon Percussion and Great Wall Music!
14/06/2017
Brand new Gabor Dornyei Samba Instructional video on UK #1 Mike Dolbear's Website from the DIME-ONLINE Collection!
12/06/2017
Gabor Dornyei SEXTET Concert Film from our Latvia Jazz Festival Headliner Performance in Saulkrasti, 2016. Enjoy the 1 hour long edit.
11/06/2017
NEW Gabs clip from DRUMEO in Vancouver, Canada! Enjoy "One Night in Tunisia" by clicking on the Drumeo link.
10/06/2017
In 2016 Gabs started gigging with American Guitarist-Piano Player Multiinstumentalist Genius STANLEY JORDAN alongside percussionist extraordinaire Kornel Horvath and Brazilian Grammy Winner Alegre Correa (ex.Joe Zawinul Syndicate) Enjoy the first concert video from the Budapest Summer Festival, Margaret Island Open Air Stage.
16/03/2017
Gabs new tHUNder Duo video with percussionist Kornel Horvath on VIC FIRTH's channel from the prestigious London Drum Show at London Olympia Conference Centre.
10/03/2016
Gabs is on faculty at Mike Dolbear's ULTIMATE DRUM EXPERIENCE (UDE) in 2016, with Gavin Harrison, Ralph Salmins, Geoff Dugmore, Ash Soan, Jeff Davenport and Richard Spaven. The event will take place at the Bull's Theatre in Barnet, North London. You can get all info and sign up details by clicking the UDE link above! See You there!
09/03/2016
A Signature Gabor Dornyei Drum Pack has been released on TYCOON PERCUSSION at the NAMM Show in Anaheim, California! The GD DRUM PACK consist of a Low Pitched Mambo Bell, Mountable Tambourine and a Low Lip Block, all on a Multi Percussion Rack! Check out Gabor's Drum Pack on MODERN DRUMMER MAGAZINE's promo video or from Gabor himself at NAMM on DRUMEO's You-Tube Channel! The product will be available globally, UK Distribution is by Active Music and the USA Distributor is Hal Leonard Corporation.
https://www.facebook.com/mike.mower.3511/videos/2840074786267803
SUBSCRIBE TO MY NEWSLETTER
My Shopping Cart
UPCOMING GIGS
22-23/APR/2023
"ATHENS DRUM FESTIVAL-Headliner" 
GABOR DORNYEI Headliner Performance, ATHENS, GREECE
24-25-26/FEB/2023
"GABOR DORNYEI DRUM CLINIC" 
PALACE DRUM CAMP, REDDITCH, UK
17-18-19/FEB/2023
"MORPHEUS ALBUM RECORDING SESSION" 
ISTANBUL, TURKEY
17/JAN/2023
"GABOR DORNYEI DRUM CLINIC" 
NORTH WALES DRUM PROMOTIONS, FLINT, UK
06/NOV/2022
"CORINA KWAMI QUARTET" 
CAMBRIDGE, UK
22/OCT/2022
"GREASE SHOW" 
DOMINION THEATRE, WEST END, LONDON, UK
21/OCT/2022
"GREASE SHOW" 
DOMINION THEATRE, WEST END, LONDON, UK
20/OCT/2022
"GREASE SHOW" 
DOMINION THEATRE, WEST END, LONDON, UK
22/SEPT/2022
"MATT TELFER QUARTET" 
HAMPSTEAD JAZZ CLUB, LONDON, UK
29/JULY/2022 !SOLD OUT! 
"STANLEY JORDAN QUARTET" feat LAURENCE COTTLE, KORNEL HORVATH, GABOR DORNYEI
RONNIE SCOTT's JAZZ CLUB, LONDON, UK
27/AUG/2022
"STANLEY JORDAN QUARTET" feat LAURENCE COTTLE, KORNEL HORVATH, GABOR DORNYEI
RYE JAZZ FESTIVAL, RYE, UK
26/AUG/2022 !SOLD OUT!
"WILD CARD" at RONNIE SCOTT's
RONNIE SCOTT's, LONDON, UK
25/AUG/2022
"GREASE SHOW" 
DOMINION THEATRE, WEST END, LONDON, UK
21/JULY/2022
"LONDON DRUM CLINIC" feat GABOR DORNYEI
NORWOOD HILL, LONDON, UK
11/JULY/2022
"STANLEY JORDAN QUARTET" feat CHRISTIAN GALVEZ, KORNEL HORVATH, GABOR DORNYEI
VALLADOLID JAZZ FESTIVAL, SPAIN, EU
09/JULY/2022
"STANLEY JORDAN QUARTET" feat CHRISTIAN GALVEZ, KORNEL HORVATH, GABOR DORNYEI
SOPRON DRUM FESTIVAL, CAVE THEATRE, HUNGARY, EU
16/MARCH/2022
"GABS' DRUM CLINIC, GRAHAM RUSSELL DRUMS
FARNHAM, UK
13/MARCH/2022
"GABS' DRUM CLINIC, BRISTOL
BRISTOL, UK
26/FEB/2022
"GABS' SOLO PERFORMANCE 26th DRUMMER's CARNIVAL-BUDAPEST" HEADLINER (DOBOSOK FARSANGJA)
VIGYAZO SANDOR MUV HAZ, BUDAPEST, HUNGARY, EU
15/FEB/2022
"THEM DIRTY BLUES"
OXFORD JAZZ SOCIETY, OXFORD, UK
05/FEB/2022
"THEM DIRTY BLUES"
PIZZA EXPRESS JAZZ CLUB, BIRMINGHAM, UK
29/JAN/2022
"THEM DIRTY BLUES"
PEGGY'S SKYLIGHT, NOTTINGHAM, UK
24/JULY/2021
"STANLEY JORDAN QUARTET" feat CHRISTIAN GALVEZ, KORNEL HORVATH, GABOR DORNYEI
SAULKRASTI JAZZ FESTIVAL (Headliner) SAULKRASTI, LATVIA, EU Tickets: http://saulkrastijazz.lv 
21/JULY/2021
"STANLEY JORDAN QUARTET" feat CHRISTIAN GALVEZ, KORNEL HORVATH, GABOR DORNYEI
MARGARET ISLAND OPEN AIR STAGE, BUDAPEST, HUNGARY, EU Tickets:https://margitszigetiszinhaz.hu/margitszigeti-programok/different-dimension-stanley-jordan-quartet-koncert/
01/APR/2020
"GABS' DRUM CLINIC, HOLYWELL
Holywell, North Wales, UK
30/NOV/2018
"GABS' 30 YEARS DRUMMING TOUR" JUL.ACADEMY
COSENZA, CALABRIA, ITALY, EU
29/NOV/2018
"GABS' 30 YEARS DRUMMING TOUR" GM DRUM SCHOOL FROSIGNANO
GM DRUM SCHOOL, FROSIGNANO, ITALY, EU
28/NOV/2018
"GABS' 30 YEARS DRUMMING TOUR" GM DRUM SCHOOL ROME
PLAY! MUSIC STORE, ROME, ITALY, EU
27/NOV/2018
"GABS' 30 YEARS DRUMMING TOUR" PLAYSOUND STUDIO
MILAN, ITALY, EU
25/NOV/2018
"GABS' 30 YEARS DRUMMING TOUR" GOTTHARD DRUM SCHOOL 
LUGANO, SWITZERLAND, SUI
24/NOV/2018
"GABS' 30 YEARS DRUMMING TOUR" THE WORLD DRUM FESTIVAL with BENNY GREB & ANIKA NILLES
MANNHEIM POP AKADEMIE, GERMANY, EU
22/NOV/2018
"GABS' 30 YEARS DRUMMING TOUR" DRUMTRAINER BERLIN
BERLIN, GERMANY, EU
21/NOV/2018
"GABS' 30 YEARS DRUMMING TOUR" GROOVE-SCHMIEDE DRUM SCHOOL
BIELEFELD, GERMANY, EU
19/NOV/2018
"GABS' 30 YEARS DRUMMING TOUR" TAM-TAM DRUM CENTRE 20th ANNYVERSARY CONCERT
BMC, BUDAPEST, HUNGARY, EU
17/NOV/2018
"GABS' 30 YEARS DRUMMING TOUR" STANLEY JORDAN-CHRISTIAN GALVES-KORNEL HORVATH-GABOR DORNYEI QUARTET
BUDAPEST, PALACE OF ARTS, HUNGARY, EU
11/NOV/2018
"GABS' 30 YEARS DRUMMING TOUR" LONDON DRUM SHOW EDUCATION ZONE CLINIC
LONDON, OLYMPIA CONFERENCE CENTRE, UK
10/NOV/2018
"GABS' 30 YEARS DRUMMING TOUR" LONDON DRUM SHOW MAIN STAGE SOLO PERFORMANCE
LONDON, OLYMPIA CONFERENCE CENTRE, UK
09/NOV/2018
J-SONICS LIVE PIZZA EXPESS JAZZ CLUB
LONDON, HOLBORN, UK
08/NOV/2018
"GABS' 30 YEARS DRUMMING TOUR" DRUMSHOP UK
GATESHEAD, UK
02/NOV/2018
"GABS' 30 YEARS DRUMMING TOUR" BIMM BRISTOL
BRISTOL, UK
27/SEPT/2018
"GABS' 30 YEARS DRUMMING TOUR" dDDRUMS 
FALKIRK, SCOTLAND, UK
26/OCT/2018
"GABS' 30 YEARS DRUMMING TOUR" BIMM, DUBLIN
DUBLIN, IRELAND
19/OCT/2018
"GABS' 30 YEARS DRUMMING TOUR" BIMM BRIGHTON
BRIGHTON, UK
11/OCT/2018
"GABS' 30 YEARS DRUMMING TOUR" ASPIRAR CLINIC
SHANGHAI, CHINA, ASIA
10-11-12-13/OCT/2018
"GABS' 30 YEARS DRUMMING TOUR" MUSIC CHINA FAIR, TYCOON PERCUSSION & GREAT WALL MUSIC with KORNEL HORVATH-tHUNder DUO
SHANGHAI, CHINA, ASIA
06/OCT/2018
"GABS' 30 YEARS DRUMMING TOUR" BUDAPEST MUSIC EXPO TAM-TAM DRUMCENTER
BUDAPEST, HUNGARY, EU
04/OCT/2018
"GABS' 30 YEARS DRUMMING TOUR" SZEGEDRUMS
IH EVENTS CENTRE, SZEGED, HUNGARY, EU
26/SEPT/2018
"GABS' 30 YEARS DRUMMING TOUR" ICMP CLINIC FOR DRUMTRAINER BERLIN 
ICMP, LONDON, UK
20/SEPT/2018
"GABS' 30 YEARS DRUMMING TOUR" ICMP FRESHERS CONCERT
O2 ISLINGTON, LONDON, UK
17/SEPT/2018
"GABS' 30 YEARS DRUMMING TOUR" ACM LONDON
ACM, LONDON, UK
12/SEPT/2018
"GABS' 30 YEARS DRUMMING TOUR" ACM BIRMINGHAM
BIRMINGHAM UK
10/SEPT/2018
"GABS' 30 YEARS DRUMMING TOUR" ACM GUILDFORD
GUILDFORD, UK
08/SEPT/2018
"GABS' 30 YEARS DRUMMING TOUR" KYTARY MUSIC FESTIWALL, with KORNEL HORVATH & AARON SPEARS
PRAGUE, CZECH REPUBLIC, EU
15/JULY/2018
SWISS MUSIC ACADEMY FINAL EXAMS
ZURICH, SWITZERLAND, EU
30/JUNE/2018
STANLEY JORDAN-CHRISTIAN GALVES-KORNEL HORVATH-GABOR DORNYEI QUARTET
CONCEPCION JAZZ FESTIVAL, CHILE, SOUTH AMERICA
28/JUNE/2018
STANLEY JORDAN-CHRISTIAN GALVES-KORNEL HORVATH-GABOR DORNYEI QUARTET
SANTIAGO JAZZ FESTIVAL, CHILE, SOUTH AMERICA
15-16-17/JUNE/2018
SOPRONDRUM FESTIVAL with BILLY COBHAM, AARON SPEARS, tHUNder DUO, SHE-E WU, ROLANDO MATOS, CHRIS DEVINEY
SOPRON,HUNGARY, EU
07/JUNE/2018
J-SONICS at PANTILES
ROYAL TUNBRIDGE WELLS, UK
09/MAY/2018
DIME-ONLINE Drums & Career Advice Masterclass
GABBEY ROAD STUDIO, LONDON, UK
20/APR/2018
STANLEY JORDAN w. tHUNder DUO (Gabor Dornyei&Kornel Horvath) KRIOL JAZZ FESTIVAL
CAPE VERDE ISLAND, AFRICA
08/MARCH/2018
J-SONICS at PIZZA EXRESS JAZZ CLUB
SOHO, LONDON, UK
24/FEB/2018
BLAKEY's BOYS at PIZZA EXPRESS JAZZ CLUB
HOLBORN, LONDON, UK
02/FEB/2018
BLAKEY's BOYS at SOUTHPORT JAZZ FESTIVAL
SOUTHPORT, UK
29-30/JAN/2018
GABOR DORNYEI SOLO FILMING on DRUMCHANNEL
LOS ANGELES, CALIFORNIA, USA
29-30/JAN/2018
THE NAMM SHOW
LOS ANGELES, CALIFORNIA, USA
18/NOV/2017
BLAKEY's BOYS at LONDON JAZZ FESTIVAL
LONDON, UK
4/NOV/2017
GABOR DORNYEI & KORNEL HORVATH (tHUNder DUO) CLINIC at WESTSHORE MUSIC ACDEMY 8pm
VICTORIA, BC, CANADA
4/NOV/2017
GABOR DORNYEI PRIVATE LESSONS & MASTERCLASS at WESTSHORE MUSIC ACDEMY 10am-2pm
VICTORIA, BC,  CANADA
1-2/NOV/2017
GABOR DORNYEI & KORNEL HORVATH (tHUNder DUO) on DRUMEO
VANCOUVER, CANADA
30/OCT/2017
GABOR DORNYEI & KORNEL HORVATH (tHUNder DUO) at DIME-DETROIT UNIVERSITY
DETROIT, USA
27/OCT/2017
GABOR DORNYEI & KORNEL HORVATH (tHUNder DUO) at DIME-DENVER UNIVERSITY
DENVER, USA
26/OCT/2017
GABOR DORNYEI & KORNEL HORVATH (tHUNder DUO) at DRUMMER's COLLECTIVE INSTITUE (DCI)
NEW YORK CITY, USA
30/SEPT/2017
STANLEY JORDAN-KORNEL HORVATH-GABOR DORNYEI (tHUNder Duo) & CHRISTIAN GALVES
SOPRON FESTIVAL, HUNGARY
21/SEPT/2017
J-SONICS at PANTILES
TUNBRIDGE WELLS, UK
26/AUG/2017
GABOR DORNYEI SEXTET
SZIN FESTIVAL, WORLD MUSIC STAGE 8.30pm, SZEGED, HUNGARY
4-9/AUG/2017
GABOR DORNYEI & KORNEL HORVATH (tHUNder Duo) LIVE in CHINA
SOPRON, HUNGARY
16/JULY/2017
SWISS MUSIC ACADEMY
ZURICH, SWITZERLAND
13/JULY/2017
J-SONICS
PIZZA EXPRESS JAZZ CLUB, LONDON, UK
07/JULY/2017
STANLEY JORDAN-KORNEL HORVATH & GABOR DORNYEI
BUCHAREST JAZZ FESTIVAL, ROMANIA
30/JUNE/2017
J-SONICS
LOVE SUPREME JAZZ FESTIVAL, ARENA STAGE 7.45pm, BRIGHTON, UK
21/JULY/2021
"STANLEY JORDAN QUARTET" feat CHRISTIAN GALVEZ, KORNEL HORVATH, GABOR DORNYEI
MARGARET ISLAND OPEN AIR STAGE, BUDAPEST, HUNGARY, EU Tickets:https://margitszigetiszinhaz.hu/margitszigeti-programok/different-dimension-stanley-jordan-quartet-koncert/